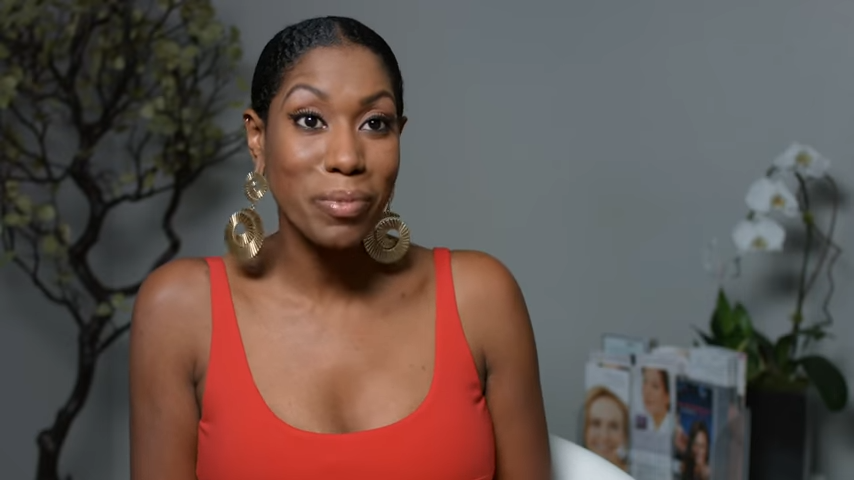 Dr. Esmailian's Patients
Talk About Their Experiences
When deciding on a cosmetic surgeon, few things are more helpful than reading the words of people who have already undergone procedures. Below are some very satisfied patients with accurate descriptions of what occurs at Dr. Esmailian's office on a daily basis.
Thank You Cards
to Dr. Esmailian
Dr. Esmailian, affectionately referred to by his patients as Dr. E, regularly receives personal cards from happy patients, thanking him for his care and compassion and highly satisfactory results. Click the button below to see a sample of the cards he regularly receives.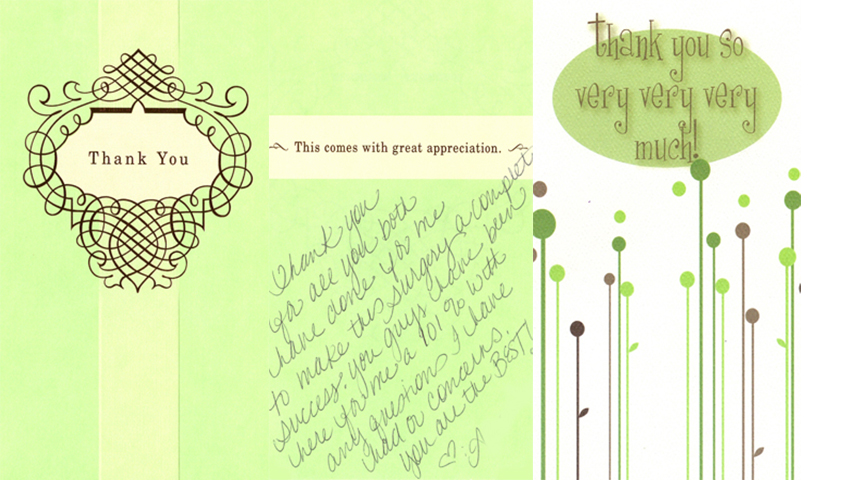 Featured Reviews
Dr. Esmailian is an extremely talented, skilled, and caring plastic surgeon. His calm demeanor puts you at ease. He is easy to talk to, and he listens keenly to you and addresses all your questions and concerns. Dr. Esmailian is patient and definitely thorough with every aspect of your surgery and care. His staff is warm, welcoming, and respectful. When you meet Sam and his other staff members, you get the feeling that you already know them! I am extremely happy with my procedure and would not hesitate to recommend Dr. Esmailian as a top surgeon who will not disappoint. If I could give Dr. Esmailian ten stars I would!
I am a 20 year old woman who wanted a breast augmentation. After visiting several doctors, I chose Dr. Esmailian with my procedure. I am one day post op, and I had the smoothest experience. Dr. Esmailian definitely makes you feel comfortable and safe. His staff is extremely accommodating and truly listen to your needs. Dr Esmailian is amazing at what he does. If you are interested in plastic surgery, I highly recommend the professional, kind Dr. Esmailian.
Dr. Esmailian and his wonderful staff are so kind, caring, patient, understanding, accommodating, informative, and thorough. It took me many many years, as well as, hours upon hours of research to find the right surgeon for my breast augmentation. Within minutes of my first consultation I knew that being patient had paid off, and that the time I spent researching was not in vain. During the following visits, I voiced my anxieties and concerns about surgery, and by the end I felt very confident that I was in great hands. The day of my surgery was positively wonderful! I was very well taken care of, and I couldn't even begin to explain how happy I am with my results! I am over the moon! I feel complete! Thank you, from the bottom of my heart, for everything, Dr. Esmailian, Brooklyn, Adrianna, and Sam!
Dr. Esmalian and his incredible staff are amazing! Very welcoming and listen to your wants instead of just telling you what to get. I'm so happy with my results!! ♥️
He's the best surgeon ever! Me and my sister got BA with him. He's so professional and humble and of course PATIENT enough to answer all questions. Nice and responsive staff. I should add that Me and my sister didn't experience any bruising or pain whatsoever.
Doctor Esmailian is the BEST plastic surgeon! My results have been nothing short of perfection!! My first breast augmentation was 13 years ago!! My breast were perfect I had 450 cc implants. After 13 years gravity took over so I went back to have a breast lift and new implants. During this pandemic. His work was excellent.I am so pleased with my results!! This time I got 650 cc they are beautiful! Doctor Esmailian and his staff are so friendly. They take their time to answer any questions and to make any anxiety go away.
I've never been lucky in the boobs department. I've been a size A since puberty and at 35 years old and three kids I was left with almost nothing, I could seriously fit into my daughter's training bra. It's been a year and a half since my breast augmentation and my one regret is I wish I would have them done sooner!
Dr. Esmailian along with Sam and the team have been extremely attentive and accommodating, no doctors had made me feel as comfortable, I immediately booked. I could have not made a better decision, both of my procedures exceeded my expectations, I'm forever grateful with Dr. Esmalian and will definitely be coming back!
I had complications with implants that were in my body for over 9 years and was recommended to have them removed to let my body recover for a year. Kaiser removed the implants, and the surgeon left me severely deformed. I was devastated. I did a lot of research and made an appointment to meet and have a consultation with Dr. Esmailian. The office staff was extremely professional and kind. Dr. Esmailian treated me with dignity and compassion. Dr. Esmailian recommended what he believed would provide the best and most lasting results. I had surgery in 2019 and I feel as though my self-esteem was restored along with my body. The work he did by the way was magnificent, and over a year later, I can honestly say that I am thrilled with the results. I would highly recommend Dr. Esmailian to anyone considering surgery. Dr. Esmailian and his team were a godsend to me.